Thanks to beacons, CH Gemini Park made an interesting promotion and gained customer data
Syngeos provides beacon technology to the Gemini Park shopping mall in Bielsko-Biała. 70 beacons were placed throughout the mall. Gallery owners and store tenants use beacons to target nearby consumers with personalized shopping offers.
The operation of the beacons was tested in the Bielsko Gallery during the Shopping Night in April. Customers who came to take advantage of bargain shopping additionally received personalized offers prepared for the occasion on their phones. Receiving the notification was possible by installing the MyPromo app. During the event, hostesses and advertising materials placed in the mall encouraged them to do so. During just a few hours of the shopping marathon, the MyPromo app was fired up more than 250 times.
The mall's tenants prepared 70 personalized offers, tailored according to the gender and age of the recipients. Most of them consisted of percentage discounts on the entire or selected assortment, but there were also such offers as a free gift for purchases over PLN 40 (Hebe) or advice from a stylist (by Polka). The largest number of MyPromo app users visited apparel stores (42 percent.) and drugstores (11 percent.). It was followed by such store categories as sports and tourism, catering, children's items, computers and consumer electronics.
The main group, as much as 40 percent. Those using MyPromo were between 20-30 years old. 23 percent. users of the application were under 20 years old, while one-fifth were between 30 and 40 years old. Older people accounted for a total of only 16 percent. Nearly half of those using offers sent via beacons are women (49 percent.), 43 percent. were men, the rest did not specify gender.
Summarizing the action, several conclusions are worth noting:
Mobile applications using beacons are a good tool in campaigns targeting millenials – people aged 20-30 used MyPromo promotions the most.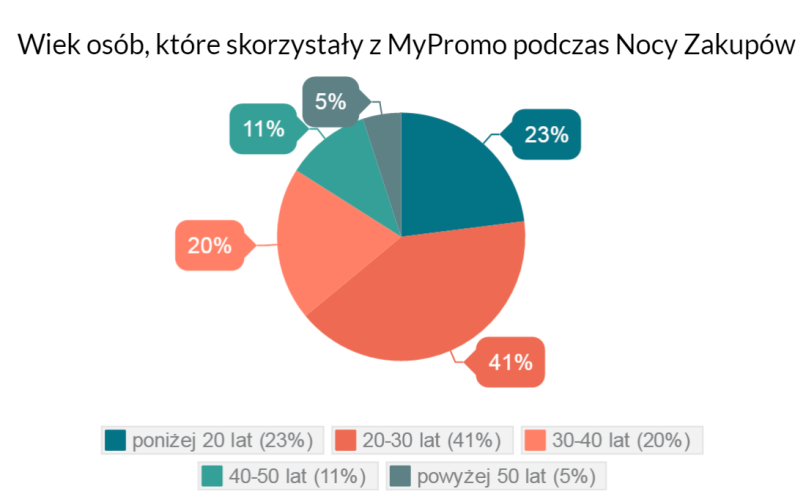 The success of a proximity campaign is determined by two factors: an attractive offer and a well-chosen tool. Beacon technology alone can provide customer outreach, but it's the interesting or favorable message that will get them to buy.
Beacons combine marketing activities with customer behavior analysis. This allows stores to gain knowledge of the number, age, or gender of customers visiting, and mall owners to know which stores generate the most traffic in the mall.